What is Gastric Bypass Surgery?
Gastric Bypass surgery reduces the stomach surgically to a smaller size and forms a food bypass to the small intestine. The result is a reduction in eating capacity, plus a reduction in calories and nutrient absorption when by-passing the duodenum of the small intestine.
The aim of the bariatric Gastric Bypass Surgery is to reduce the stomach capacity, to assist people in their eating habits, helping to overcoming morbid obesity and to improve their general health. The preferred method to achieve this is the laparoscopic (keyhole) Roux-en-Y surgical procedure.
The first step in this bariatric procedure is the surgeon using keyhole surgery to reduce the functioning size of the stomach by creating a small pouch size vessel.
The second step is creating a bypass for food; a small opening (stoma) is formed between the intestine and the stomach. The reduced stomach pouch is attached to the small intestine at the new opening forming the "Roux" connection.  By reducing the functional size of the stomach with surgery, this new pouch can hold only up to 60 ml of food and liquids instead of 1.5 litres or more previously.
This reduction in eating capacity, plus a reduction in calories and nutrient absorption when by-passing the duodenum of the small intestine means after meals the patient feels more satisfied with a smaller stomach.  Plus, the stoma delays the gastric emptying process thus feeling full for longer. This process has proven to be an effective and sustainable form of weight loss long term.
Surgical incisions are placed within a natural skin line to reduce scarring.  All areas are closed with hidden absorbable sutures that do not need removal.  Leaving a neat line when dressings are removed.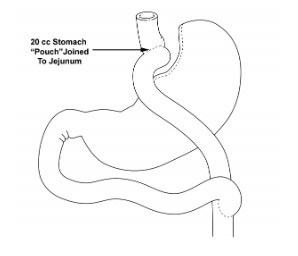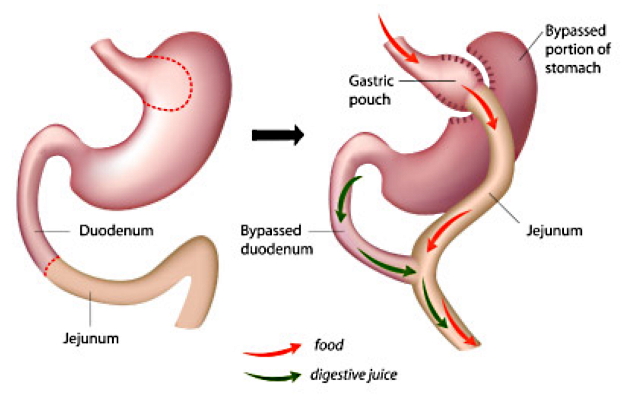 Figure. Gastric by pass. Has a small – volume gastric pouch, a narrow outlet from the divided stomach, and bypass of part of the small bowel
In some people, a ring can be placed around the stomach pouch during the operation , to limit the risk of weight regain.
Who is Suitable for Gastric Bypass Surgery?
The Gastric Bypass Procedure has been effective in helping people with morbid obesity lose excess weight post-surgery, by reducing the size and capacity of the stomach. This includes people who have tried to lose excess weight with various methods of diet and exercise without success.
Roux-en-Y Gastric Bypass Surgery is an effective solution for gastric bypass surgery which is performed in our surgery in Sydney.  This is successfully carried out with the laparoscopic technique during stomach bypass surgery and surrounding areas. This technique also reduces the number of surgical incisions thus reducing blood loss and the post operative recovery time. This may be recommended where other surgeries may not be suitable because of risk factors.
Your candidacy or suitability for this surgical procedure generally relates to comorbid conditions based on BMI or your body mass index ratio and related conditions to obesity e.g., type – 2 diabetes, sleep apnoea, asthma and people with bad concurrent heart burn/reflux disease.
A BMI of 40+ or someone with one or more comorbid medical conditions and a BMI of 30+ may be considered a suitable candidate for bariatric surgery.
Please note, some patients unfortunately, may not be suitable candidates due to a higher risk with surgery because of more advanced multiple comorbidities.
The surgeon will assess your individual medical situation with a face-to-face appointment.  However, you must be at least 18 years old with an existing history of weight loss attempts.
First check your current BMI to find your own body mass index and if appropriate, then call our surgery in Sydney to make an appointment with our bariatric surgeon.
Gastric Bypass Surgery Advantages (GBS)
For the morbidly obese, loosing excess weight has several important benefits:
The procedure results in restricting the intake of food. This is called the restrictive component of the bariatric surgery.
The restrictive intake of food results in a limitation of food nutrients or the malabsorptive component.
After meals the level of satiety and enjoyment is increased after the Roux-en-Y Gastric Bypass. This is because it alters the level of gut hormones including peptides YY (PYY) and glucagon like peptide -1 (GLP-1) referred to as the metabolic component of the gastric bypass.
No implant device in the body.
GBS laparoscopically benefits include reduced pain, lower infection risks, a quicker recovery period and fewer surgical complications.
Currently it is the most recommended operation for long term rapid initial weight loss and 60-70% excess weight loss up to 10 years post operation.
The procedure generally improves diabetes and may resolve it completely. 
Considerably improves conditions eg high blood pressure, heart conditions, arthritis, non-alcoholic fatty liver diseases, asthma and sleep apnea.
The procedure achieves maximum amount of loss of weight and often leads to increased energy.
Improves mobility and as a result general quality of life.
Gastric Bypass Surgery Risks
As with any major surgical procedure, there is the possibility of potential risks associated with GBS and although relatively low may include:
Internal bleeding, clots or infection.
Possible gastric stomal (marginal) ulcers.
Leakage or separation of the staples in the surgical area.
Changes to previous digestion habits required to accommodate the new Roux-en-Y gastric bypass.
Dietary vitamin supplements may be required long term.
Dumping syndrome, when foods high in sugars move too quickly from the stomach to the small bowel may cause nausea, reflux or diarrhea.

 

Not eating foods high in simple sugars helps to avoid this occurring.
Gastric Bypass Surgery requires more follow up visits compared to other procedures.
Although GBS has a higher complication rate than other similar operations (ie gastric banding) the weight loss for the morbidly obese is more consistent and long term when followed with the right exercises and diet choices.
What to expect with Gastric Bypass Surgery
Short operation time approximately 60 to 90 minutes.
Average stay in hospital 3-4 days.
Time off work approximately 2 weeks.
After the surgical procedure a gradual programme regarding diet is undertaken.  For the first 1-2 weeks, a diet of clear liquids. This will follow with clear pureed foods diet and adequate fluids in order, to keep hydrated post-surgery.
One month after surgery approximately, the diet will slowly increase to more regular content although in a reduced quantity. During this transition to a more substantial form of foods, patients may experience feeling ill or a lack of energy due to the changes in their digestive habits.  Weight loss may occur at a greater rate during this transitional period. 
Six months after surgery approximately, patients will maintain a more long-term diet in order, to keep their desired weight overtime.  This will be a more limited quantity of nutritional foods for the long- term.
Two years after surgery approximately, patients can expect to have lost up to 70% or more of their excess weight.  Some may regain about 10% of this excess during 2-5 years after surgery.  However, to avoid this unwanted occurrence, nutritional counselling and psychological counselling is available to help maintain a preferred weight over the long term. Regular annual check-ups are recommended as part of the follow-up period.
Generally, you can expect a smaller intake of food at meals due to the reduced capacity of the stomach.  Although you will be eating smaller meals you will be feeling fuller.  Smaller meals mean less calories and increased weight loss. 
Surplus skin has the ability, to shrink and re model, over a period after surgery up to 12 months. Most people find that plastic surgery is not necessary.  
This procedure can be reversed.
Obese weight loss surgery financial plans are available.
First Steps with Gastric Bypass Surgery
The pathway to losing weight is in your hands and it's as easy as making a phone call to see if you are eligible for gastric bypass surgery or perhaps another type of bariatric surgery e.g., Lap Band Surgery or Sleeve Gastrectomy.  
If you think you may be a candidate for weight loss surgery using Roux-en-Y Gastric Bypass, call our clinic in Sydney and speak to one of our consultants. 
They are ready and available to take your call on (02) 8080 4644
Free Initial Consultation
If you are considering obesity surgery the first step is to contact us for a complimentary consultation.
In this initial conversation we will discuss the SIOS weight-loss journey, including:
Surgeries available
Costs and fee structure
Pre-surgery appointments
Your hospital stay
After-care programme
Support groups and workshops
Other programmes to help you achieve your healthy weight
This is a private and confidential discussion during which we will also consider your medical history, suitability for surgery and life style. Take the first step towards a healthier life and fill in the online form or call us on 02 8080 4644