Nutrition for weight loss surgery is very different to normal healthy eating and weight loss. Our specialist dietitians Eva Tamrakar and Sandy Najem are experts in the nutrition management of weight loss surgery, particularly gastric banding, sleeve gastrectomy, Roux-en-Y gastric bypass, and omega-loop gastric bypass. Bringing over 12 years nutrition counselling experience to SIOS, Eva and Shannon are highly committed to ongoing professional development and education to provide their clients with individualised, up-to-date, evidence-based dietary care.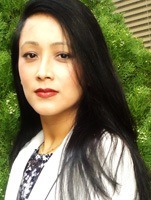 Eva Tamrakar
Accredited Practising Dietitian (APD), Accredited Nutritionist (AN)Bachelor of Health Science (Nutrition & Dietetics) Honours
University of Newcastle
Eva is a fully registered accredited practising dietitian and member of the Dietitians Association of Australia (DAA). Eva has several years' experience providing nutrition counselling for adults in various health care settings including: clinical, community, corporate and private practice. As a testament to Eva's diversity she holds the following appointments:
Sydney Institute for Obesity Surgery, Ashfield, (clinical dietitian)
Sydney Institute for Obesity Surgery, Guildford, (clinical dietitian)
The Sydney Private Hospital (clinical dietitian)
Private practice (Blacktown, Seven Hills, Parramatta)
Eva is a dedicated health professional eager to deliver an exceptional dietetic service advising you on the specific nutritional management of conditions and issues like obesity, diabetes and hyperlipidaemia.
Eva can provide a complete personalised eating plan to specifically suit your current lifestyle and your dietary needs in addition to your very own lifestyle assessment, nutritional education and goal setting.
At SIOS, Eva has been working for over 7 years helping patients achieve weight loss by diet and lifestyle modification, as wells as through bariatric surgeries like gastric band, sleeve gastrectomy, omega-loop gastric bypass, Roux-en-Y gastric bypass and gastric balloon.
Eva is keen to build a long term partnership with YOU to help achieve your health goals.