LAPAROSCOPIC OMEGA LOOP BYPASS (MINI Bypass)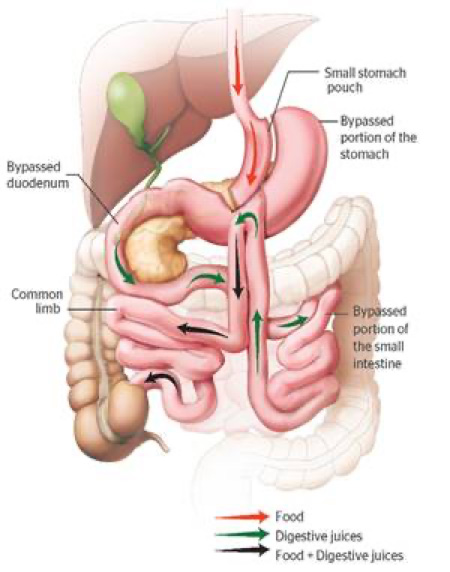 Omega-Loop gastric bypass surgery is a simplified version of the Roux-en-Y gastric bypass surgery.  It is also known as Mini Gastric Bypass Surgery or Single Anastomosis Gastric Bypass Surgery.
It works by restricting the amount of food that can be eaten at one time a small stomach pouch, approximately 50 milliliters in volume and by altering gut hormones that affect appetite control. 
Weight loss results with Omega-Loop gastric bypass have been proven to be both safe and successful. Omega-Loop is sometimes referred to as mini gastric bypass as it involves only making one anastomosis (connection) instead of two like during Roux-en-Y. 
During Omega-Loop, the stomach pouch is reduced in size and interconnected to the small intestine. This causes the food ingested to bypass the duodenum and the first section of the small intestine. 
This bypass results in earlier satiety (feeling of fullness) and fewer calories absorbed, in turn leading to weight loss. 
The larger part of the stomach is detached but remains in the body and continues to produce digestive juices that help with digestion. 
Because Omega-Loop involves making one anastomosis instead of two, it can be performed in less time than Roux-en-Y and involves less risks and a shorter recovery.
Advantages of Mini Bypass Surgery
Produces significant long-term weight loss (60 to 80 percent excess weight loss)

Restricts the amount of food that can be consumed

May lead to conditions that increase energy expenditure

Produces favourable changes in gut hormones that reduce appetite and enhance satiety

Typical maintenance of >50% excess weight loss
Disadvantages of Mini Bypass Surgery
It is technically a more complex operation than

Laparoscopic Sleeve Gastrectomy

(LSG) and potentially could result in greater complication rates

Can have long term GASTRIC reflux and conversion to RY gastric bypass may be required

Can lead to long-term vitamin/mineral deficiencies particularly deficits in vitamin B12, iron, calcium, and folate

Generally has a longer hospital stay than the

Adjustable Gastric Band

(AGB)

Requires adherence to dietary recommendations, life-long vitamin/mineral supplementation, and follow-up compliance
FIRST STEPS WITH MINI BYPASS SURGERY
The pathway to losing weight is in your hands and it's as easy as making a phone call to see if you are eligible for the mini bypass surgery or perhaps another type of bariatric surgery e.g., Lap Band Surgery or Sleeve Gastrectomy.
If you think you may be a candidate for weight loss surgery, call our clinic in Sydney and speak to one of our consultants.
They are ready and available to take your call on (02) 8080 4644
Free Initial Consultation
If you are considering obesity surgery the first step is to contact us for a complimentary consultation.
In this initial conversation we will discuss the SIOS weight-loss journey, including:
Surgeries available
Costs and fee structure
Pre-surgery appointments
Your hospital stay
After-care programme
Support groups and workshops
Other programmes to help you achieve your healthy weight
This is a private and confidential discussion during which we will also consider your medical history, suitability for surgery and life style. Take the first step towards a healthier life and fill in the online form or call us on 02 8080 4644